LATEST ARTICLES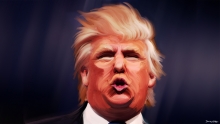 May 16, 2018
Medium | May 8, 2018 | After a year spent absorbing the shock of Donald Trump's election to the White House, and watching to see if the world would sputter off its axis instantly or work its way to a slow, rolling boil before scorching the universe and everything in it, my husband and I felt ready to do what we could to keep the earth spinning. We discussed how to add the most value to the effort to stop Trump and the GOP from ruining our country. And we wanted our friends and family to be able to join the effort in a strategic way. Most were appalled by everything Trump said and did, but many didn't necessarily view themselves as activists. They cared deeply, but felt powerless to effect electoral change because they already lived in Democratic districts, where their votes seemed not to count.
April 30, 2018
NEW YORK TIMES | Apr. 9, 2018 | What does it mean to be transgender? A Pentagon report released last month, recommending that most transgender Americans be disqualified from military service or forced to serve in their birth gender without full health care, has renewed debate over this question.
December 8, 2017
Slate | Dec. 8, 2017 | Why does it seem that, every time a national debate erupts about the place of minorities in American life, a gaggle of Straight White Guys with little connection to or understanding of these minorities holds forth on how they should or shouldn't resolve their grievance about unequal treatment? This week's version came in response to Masterpiece Cakeshop v. Colorado Civil Rights Division, the Supreme Court case of Jack Phillips, a Christian baker who refused to sell a wedding cake to a gay couple, Charlie Craig and David Mullins. Phillips is seeking a license to discriminate based on artistic and religious freedom.