ARTICLES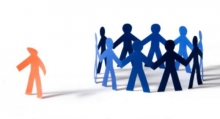 January 1, 2020
Washington Post | Dec. 19, 2019 | In a trio of cases heard in October, the Supreme Court weighed whether discrimination against LGBT people should be legal. Over the course of those and related cases, a handful of scholars who oppose legal protections for LGBT Americans claimed in a legal brief that "research about discrimination and its effects" on LGBT people is "deficient and the claims based on it unsupported." This claim rings false to many researchers who study this issue, as well it should, because the evidence of a link between anti-LGBT discrimination and health harms is both robust and well-supported.
December 4, 2019
New York Times | Dec. 4, 2019 | As Pete Buttigieg, the openly gay mayor of South Bend, Ind., has surged to a top position in Iowa polls in the Democratic presidential primary, media reports have emerged warnings that his sexuality may yet derail his White House bid. A recent national Politico/Morning Consult poll found that a plurality of voters, 45 percent, think the country is not ready for an openly gay president, with only 40 percent saying it's ready. Consultants have chimed into say the mayor may be less electable than coastal elites realize because he's gay.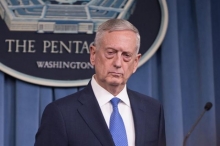 November 22, 2019
BuzzFeed News | Nov. 22, 2019 | America is in crisis, a decorated former government official recently warned. "Virulent, take-no-prisoners attacks on the media, the judiciary, labor unions, universities, teachers, scientists, civil servants — pick your target — [are threatening to] tear down the scaffolding on which society is built," he wrote. "We talk about what divides us and seldom acknowledge what unites us."
October 22, 2019
Medium | Oct. 22, 2019 | Elizabeth Warren delighted fans at CNN's LGBTQ candidate forum earlier this month when explaining how she'd respond to someone who believes marriage is between one man and one woman: "Then just marry one woman…," she said she'd tell him, "assuming you can find one." But after her appearance, Warren faced pushback not only from conservatives and Republicans, who activated a predictable outrage machine, but also from some Democrats who dragged out their own familiar but increasingly tired trope: that calling out those who trample our values by opposing equal treatment will drive away those elusive moderates who might otherwise deliver us elections.
June 25, 2019
Rolling Stone | Jun. 25, 2019 | In the spring of 1968, weeks before the start of her final year of life, Judy Garland met with a biographer to discuss collaborating on her memoir. The author, Gerold Frank, was a journalist well-known for ghostwriting the life stories of celebrity women, including Zsa Zsa Gabor. The meeting, arranged through Sid Luft, Judy's manager and third ex-husband, was set for 10 p.m. at New York's St. Moritz Hotel. But at the appointed hour, Frank and Luft, who were dining at the Plaza nearby, got word that the superstar needed more time.
June 21, 2019
WASHINGTON POST | JUN. 21, 2019 | This month's 50th anniversary of Stonewall, the Greenwich Village uprising that launched the modern LGBT movement, was always going to be complicated. What may seem like a straightforward chance to celebrate LGBT progress actually masks a fault line that has divided our movement since its start: whether our goal is equality or liberation, a fight for the right to be treated like everyone else or the freedom to be authentically ourselves. Do we seek belonging in the world as it is (including the military, marriage and parenting) or the chance to transform the world, by throwing off repressive norms, into a place where all of us — queer and non-queer alike — can be more free?
April 10, 2019
MEDIUM | Nathaniel Frank | Apr. 10, 2019 | In 1974, a lonely 17-year-old boy named Charles Rhines, who lived in a small town in South Dakota, joined the Army. Rhines had grown up closeted, and probably autistic, in rural America, and like many gay boys of that era, he hoped military service would prove his manhood and give him somewhere to belong. Instead, just months after enlisting, and days after a playful twirl in the barracks appeared to rile up a fellow soldier who accused him of showing off his back side, Rhines was struck from behind while in an open bay shower. He was hit so hard his forehead bounced off the hard tile wall and he fell to the ground. Through the mental fog appeared his accuser and three other soldiers, who held him down and took turns anally raping him.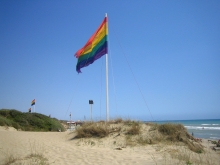 April 2, 2019
CNN | Apr. 2, 2019 | New York (CNN) — The first generation of lesbian, gay and all manner of gender-dissident New Yorkers who flocked to the tiny spit of land named Cherry Grove came largely from the city's bohemian theater and arts world. Here, just 60 miles east of Manhattan, this despised and misunderstood community built a utopian outpost where they could not only be themselves, but could create a model culture -- one of expressive freedom, chosen communities and pleasure-seeking -- that the rest of the world would soon emulate.
March 20, 2019
Los Angeles Times | Mar. 20, 2019 | The Pentagon last week released its latest policy memo on transgender military service, an effort to bring President Trump's tweeted ban in line with court rulings that had blocked the administration from implementing it. There are numerous problems with the policy, but one, in particular, ought to bring the entire edifice tumbling down: It is based on the wholly deceptive claim that allowing transgender individuals to serve would mean giving them "special accommodations" — a reprise of the religious right's strategy of opposing gay rights by calling equal rights "special rights."
January 16, 2019
SLATE | Jan. 16, 2019 | With Democrats now in charge of the House of Representatives, and the country nearing a fifth week of the disastrous Trump shutdown, progressives are beginning to feel new momentum. But while Democrats may be poised to win the short-term political argument over the shutdown, the pain and suffering it has inflicted are part of a long-term right-wing strategy that's older and broader than many people realize. That strategy involved a decades-long campaign to turn everything from the courts to the Congress to the country's overall cultural character sharply rightward by stigmatizing forms of collective action—government, unions, even voting—that history shows are necessary counterweights to the greed of the powerful.