LATEST ARTICLES
December 4, 2019
New York Times | Dec. 4, 2019 | As Pete Buttigieg, the openly gay mayor of South Bend, Ind., has surged to a top position in Iowa polls in the Democratic presidential primary, media reports have emerged warnings that his sexuality may yet derail his White House bid. A recent national Politico/Morning Consult poll found that a plurality of voters, 45 percent, think the country is not ready for an openly gay president, with only 40 percent saying it's ready. Consultants have chimed into say the mayor may be less electable than coastal elites realize because he's gay.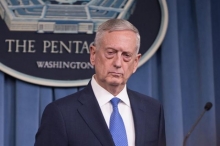 November 22, 2019
BuzzFeed News | Nov. 22, 2019 | America is in crisis, a decorated former government official recently warned. "Virulent, take-no-prisoners attacks on the media, the judiciary, labor unions, universities, teachers, scientists, civil servants — pick your target — [are threatening to] tear down the scaffolding on which society is built," he wrote. "We talk about what divides us and seldom acknowledge what unites us."
October 22, 2019
Medium | Oct. 22, 2019 | Elizabeth Warren delighted fans at CNN's LGBTQ candidate forum earlier this month when explaining how she'd respond to someone who believes marriage is between one man and one woman: "Then just marry one woman…," she said she'd tell him, "assuming you can find one." But after her appearance, Warren faced pushback not only from conservatives and Republicans, who activated a predictable outrage machine, but also from some Democrats who dragged out their own familiar but increasingly tired trope: that calling out those who trample our values by opposing equal treatment will drive away those elusive moderates who might otherwise deliver us elections.